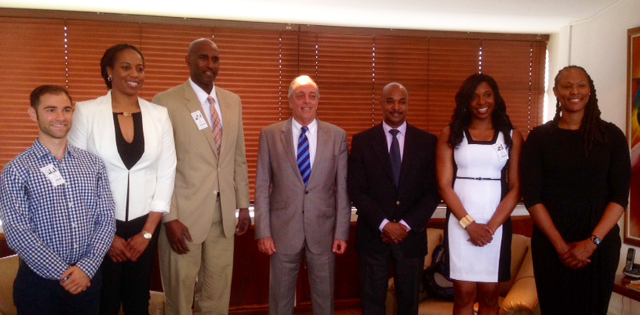 Jacob ToupsSenior Regional Manager, Los Angeles Up2Us Sports
"Who's the best soccer player coming out of Colombia right now?" I asked.
"James. He plays for Real Madrid right now," Sandra Lopez says.
"What makes him such a great player?"
"He comes from Cucuta, a town near the Venezuelan border, plagued still with violence." Sandra replied. "He reflects someone who, despite the challenges in his community, persevered to be successful. Colombians aspire to do something similar."
Sandra works for Kayros in Colombia providing services and workshops to contribute to a better quality of life for children and youth.  She speaks about the power sport has in inspiring future generations.
Recently, I spent a week in Colombia on a sports diplomacy trip through World Learning, a nonprofit organization that focuses on international development, education and exchange programs.  Included in the delegation were former professional and Olympic athletes Hazel Clark, Chamique Holdsclaw and Chasity Melvin, along with Kwanza Hall, a city councilman in Atlanta. Our mission was to create the foundation of a Sports Factory Initiative by contributing everything we knew about sports skills, youth development, sports entrepreneurship, and politics. I shared Up2Us Sports' expertise in connecting sports and life skills through workshops and brainstorming sessions.
Here are some daily highlights from my six-day trip, which started in Bogota, the Capital of Colombia, and ended in Monteria, an up-and-coming sports hotbed.
Sunday, April 19 Today, our delegation brought both sports and youth development clinics to the local population in Bogota. The Coldeportes Department of Sport and Recreation recently built a high performance center in Bogota, hoping to attract athletes and new business, while also providing programing for youth. Later that day, I facilitated a workshop on Coaches with a Social Impact.  Attendees included local organizations and coaches who provide youth sports opportunities in Bogota. Everyone welcomed the fresh perspective on the power of sports for youth development.
Monday, April 20 We met with the Coldeportes director Andrés Botero, who works on growing sports diversity in Colombia. Our delegation brainstormed ways in which we could help Andrés' mission while also incorporating the mental and physical benefits sports can provide. We moved to the Colombian Olympic Committee building, where we discussed athlete development and business engagement methods used by the United States Olympic Committee, which could benefit the Olympic movement in Colombia. Our last stop was the United States Embassy, where we met with Cultural Affairs Officers and were briefed on the challenges Colombians face and the United States' efforts to assist.
Tuesday, April 21 All of the delegation traveled north to the up-and-coming sports hub of Monteria. The government recently began implementing infrastructure to enhance the sports movement locally.  We visited La Pradera Public School and Gymnasio Campestre Private School to speak with the children about their passion for sports and how it has helped them academically. The day ended at the local university with a workshop by Olympic runner Hazel Clark, on track and field training for athlete development.  It was clear after today that both sports and youth development skills are needed to grow the movement in Colombia.
Wednesday, April 22
Monteria held a forum with mayors, politicians, sports organization directors and other leaders to address challenges they're facing as they attempt to create a larger sports movement.  Colombians easily identified the link between sports, violence prevention, health benefits, and academic performance. The challenges they face are similar to those that organizations in the United States have: transportation, safe spaces for kids to play, and recruitment into violent groups. This paints a clear picture that all international youth sports organizations can exchange real solutions to the challenges we all face.
Thursday, April 23 In collaboration with the town, we put on an outdoor festival. Hazel gave track and field trips while former WNBA players Chasity Melvin and Chamique Holdsclaw ran a basketball clinic. I taught everyone Up2Us Sports' infamous "Lizard and Flies" game, which is something new for coaches and organizations to use for youth engagement. We then met with Carlos Correa, the Mayor of Monteria, to discuss how he is bringing in new business to help build up the sports movement. Carlos stressed the importance of linking the outcomes of youth sports to education as they face teacher strikes and high rates of school dropouts.  We wrapped up the day discussing next steps for the Sports Factory Initiative with a group of people who help shape youth sports in Colombia, just like Up2Us Sports does in the U.S.
Friday, April 24 We closed out our time in Monteria with a workshop I hosted for athletes and coaches who are studying Physical Education at the local university. After a little Rock-Paper-Scissors remix, the crowd was enthusiastic to learn more about becoming an SBYD coach. Participants shared powerful stories of how they've improved youth academics through their programs, along with how their mentorship has guided youth away from joining guerrilla groups.
Sports can speak across all languages. We all face similar program challenges and societal ills, but the power of SBYD and coaches as mentors transcends cultural boundaries.  On this trip, our delegation inspired politicians, organizations, coaches, and athletes to take the next step in growing sports in Colombia, helping them see the transformational power it can have on young people. The sports-based youth development movement, led by Up2Us Sports, is no longer just happening within the United States; it's a movement seeking to address critical challenges faced by all youth worldwide.